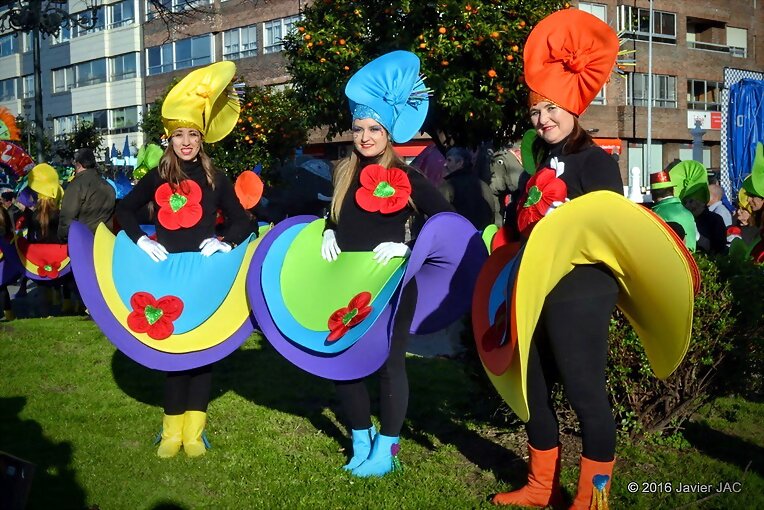 Introduce aquí el te
El desfile de carrozas del Carnaval 2016 de Vigo por fin pudo celebrarse y salió a las 18.00 desde la calle García Barbón, en el nudo de Isaac Peral, la comitiva partió por García Barbón, y Porta do Sol para rematar allí a los pies del Sireno.
El Entroido o Carnaval en Vigo es una de las celebraciones favoritas de los gallegos, una cita vinculada a ritos de fertilidad y protección de las cosechas, incorporada después como rito cristiano en el quecelebrar la abundancia y en la que despedirse del buen comer y del buen beber por un tiempo.
Participaron 18 comparsas de las 22 que estaban previstas, el buen tiempo y agradables temperaturas así lo hicieron posible después de dos aplazamientos por las lluvias y viento, pero a la tercera fue vencida y aquí pongo algunas de las fotos que hice de este evento.
The parade of floats of Carnival 2016 Vigo was finally able to be held and left at 18.00 from Garcia Barbon Street, in the Isaac Peral knot, the procession went by García Barbón, and Porta do Sol to finish there at the foot of Sireno .
The Entroido or Carnival in Vigo is one of the favorite traditions of Galicia, an event linked to rites of fertility and crop protection, built after a Christian rite quecelebrar abundance and where leave of the good food and good drinking for a while.
Included 18 parades of the 22 that were planned, good weather and pleasant temperatures they did possible after two postponements by rain and wind, but the third was defeated and here I put some of the pictures I took of this event.
xto de tu elección
24/Sep/2015
<![endif]-->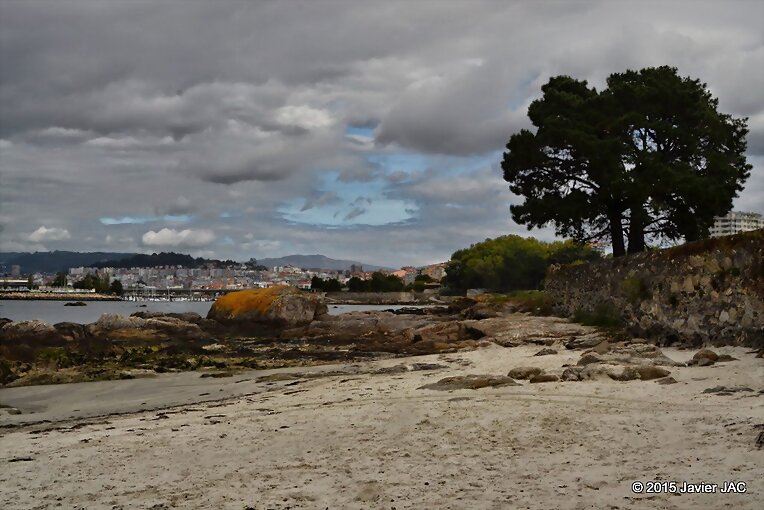 Algunas playas de Vigo puerta del Atlantico.
¿Aún no conoces las playas de Vigo? Son uno de los mayores atractivos de la ciudad. Las playas de la ría de Vigo te sorprenderán: nada que ver con otros arenales urbanos poco atractivos, incómodos o abarrotados.
A 10 minutos del pleno centro de Vigo, las playas son de arena blanca y fina, agua transparente y para todos los gustos: playas familiares, calas salvajes, arenales con olas para practicar deportes acuáticos y también playas nudistas.
En 2014, 9 playas de Vigo fueron distinguidas con la bandera azul por la calidad de sus aguas, la información y educación ambiental, la gestión ambiental y seguridad y los servicios e instalaciones.
Hay playas en Vigo que puedes recorrer una tras otra por la línea de costa: Por ejemplo, desde la playa de O Adro en Bouzas hasta el final del largo arenal de Samil: kilómetros de senda litoral para hacer caminando junto al mar.
Te presentamos una selección variada de las playas de Vigo. Puedes conocerlas todas a través de la web del Ayuntamiento de Vigo.
Descubre además las fabulosas y salvajes playas de Cíes, en el Parque Nacional Illas Atlánticas.
--------------------------------------------------------------------------- ----------------------------------
Some beaches of Vigo Atlantico door
Still you not know the beaches of Vigo? They are one of the biggest attractions of the city. The beaches of the Ria de Vigo will surprise: nothing to do with other unattractive, uncomfortable or crowded urban beaches.
10 minutes from the center of Vigo, the beaches are of fine white sand and clear water for everyone: family beaches, wild creeks, beaches with waves for water sports and nudist beaches.
In 2014, Vigo 9 beaches were distinguished with the blue flag for its water quality, environmental education and information, environmental management and safety and services and facilities.
There are beaches in Vigo you can go one after another by the waterfront: For example, from the beach O Adro Bouzas until the end of the long beach of Samil: kilometers of coastline path to walk by the sea.
We present a wide selection of the beaches of Vigo. You can know them all through the website of the City of Vigo.
See also the fabulous beaches and wild Cies in the Atlantic Islands National Park.
30/Nov/2013
<![endif]-->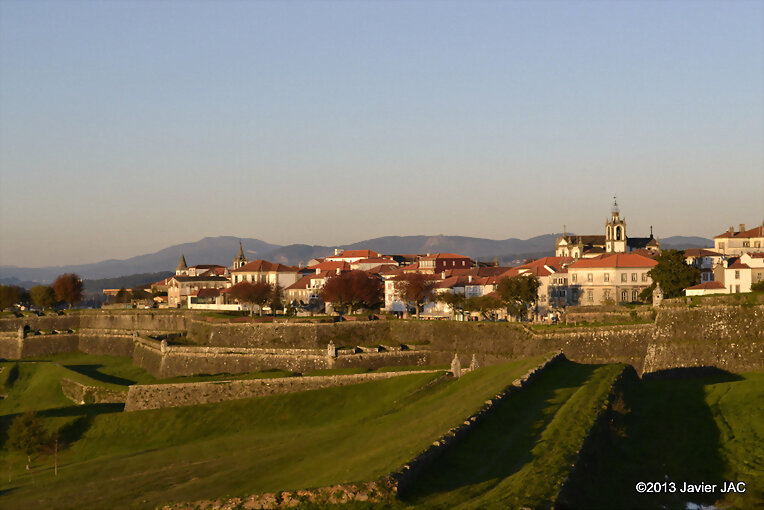 Valença, comúnmente conocida como Valença do Minho, es una ciudad portuguesa situada en el Distrito de Viana do Castelo, región Norte y subregión del Minho-Lima, con aproximadamente 8.000 habitantes en su núcleo principal y 14.127 habitantes (2011) dentro de su término municipal.
Es sede del municipio homónimo con 117,43 km² de área y , subdividido en 16 freguesías (parroquias). Limita al este con el municipio de Monção, al sur con Paredes de Coura, al oeste con Vila Nova de Cerveira y a noroeste y norte con España (municipio de Tuy).
Recibió un fuero de Sancho II de Portugal, siendo entonces bautizada como Contrasta. Recibió su nombre actual en 1262. El sobrenombre de do Minho le viene por el Río Miño.
A partir del 10 de febrero de 2012 junto a la ciudad de Tuy (España) forman una Eurociudad como muestra de cooperación e integración entre ambas ciudades separadas tan solo por dos puentes que atraviesan el río miño.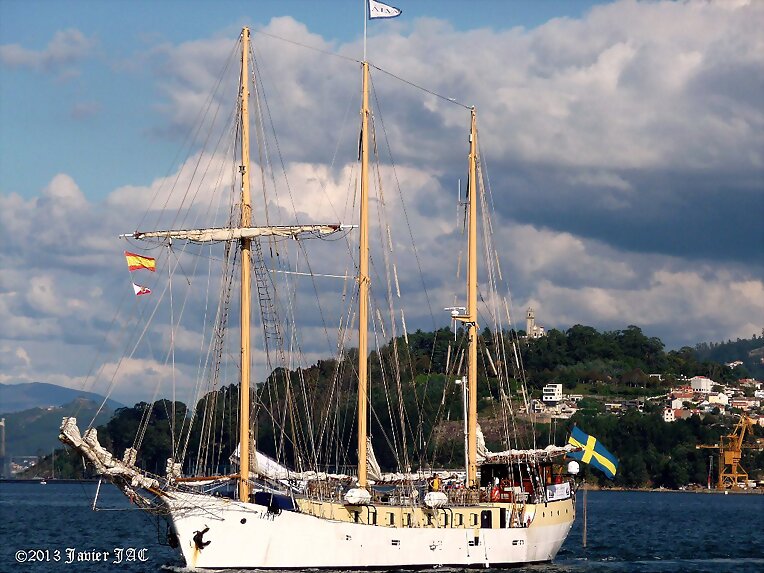 Arribo al puerto vigués como lo viene haciendo en los últimos años el velero de pasaje " ALVA" sueco del tipo goleta de tres palos, construido en el año de 1939 tiene 44,2 metros de eslora y 7,27 de manga, fue inicialmente construido como mercante para los pequeños puertos del mar Báltico y después de unos años de abandono se volvió a recuperar y se remozo para usarse como buque escuela, lleva a bordo y siete tripulantes con su correspondiente capitán al mando del capitán Mr. Mattias y sus 34 alumnos del sexo femenino en su mayoría con plan de estudios de biología y técnica marina, son de la escuela de Läriverket, situado en Estocolmo Suecia, después de unos días de descanso seguirá periplo hacia la ciudad de Málaga habían arribado de la ciudad inglesa de Southampton.
ALVA IMO NUMBER 5013052 MMSI CODE 266 042000 CALL SIGN SDRG VESSEL TYPE YACHT GROSS TONNAGE 286 tons SUMMER DWT 390 tons BUILD 1939 BUILDER LODOSE VARV LODOSE - SWEDEN LAST KNOWN FLAG SWEDEN VESSEL DETAILS CLASS SSC:YACHT, MONO, G6LR MACHINERY CLASS: LMCFEE NUMERAL: 352 LR HULL NOTES: 3BH WB112T INCL. DTF13T LAST DRYDOCK SURVEY 2010 Jul 16 LAST SPECIAL SURVEY 2008 Sep 09 NEXT DRYDOCK SURVEY 2013 Jul 15 NEXT SPECIAL SURVEY 2013 Sep 08 GENERIC CONVERSION CONVERTED FROM GENERAL CARGO (2003) TRADING AREAS CARIBBEAN MEDITERRANEAN UK-CONTINENT-BALTIC US EAST COAST WEST AFRICA.
DIMENSIONS BREADTH EXTREME 7,27 m BREADTH MOULDED 7,22 m DEPTH3,64 m DRAUGHT 3,44 m LENGTH B/W PERPENDICULARS 32,42 m LENGTH OVERALL 44,02 m TONNAGES NET TONNAGE 85 t LOADLINE FREEBOARD (SUMMER) 210,0 mm CARGO DERRICKS 2x1TONNE 2WINCH(ES) STRUCTURE DECKS NUMBER 1 HULL MATERIAL STEEL HULL TYPE SINGLE HULL.
ENGINE
ENGINE BUILDER VOLVO PENTA ENGINE CYLINDERS 6 ENGINE POWER 331 KW ENGINE STROKE 131 mm FUEL TYPE MARINE DIESEL PROPELLER 1 FIXED PITCH
Built at the Lödöse shipyard next to Gothenburg in Sweden in 1939 as a 3-masted schooner with Bermuda rig, used as a sailing cargo vessel. Lengthened in Bremerhaven, GER in 1951. Converted to a charter vessel between 1989-1997.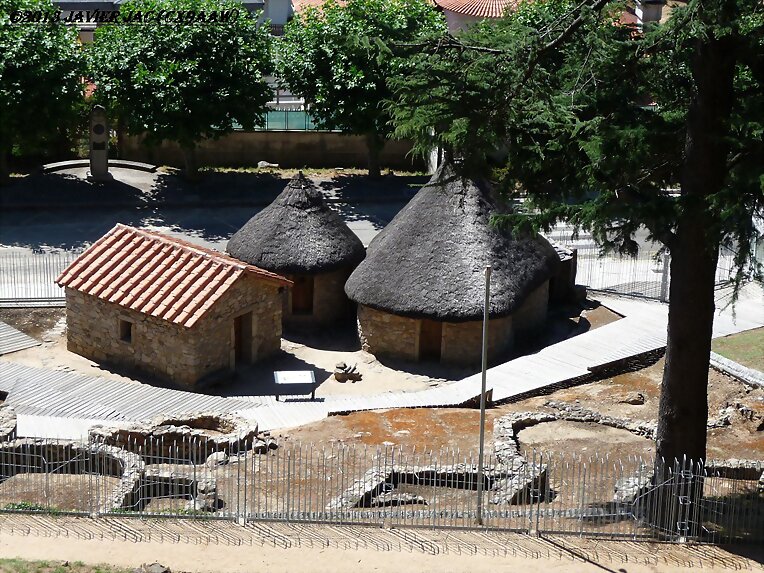 The preserved forts are just a small part of the original village, believed that reached the top of the mountain of the Castro, where currently fortification.
For its size it is believed to host a fairly large population at the time, so it shows that even in those years Vigo was an important city in the Galician area, especially in the section of the market, in which, thanks to its proximity It kept sea fish trade with different parts of the region. Most of the remains date from the second century BC and and although as I said only a small part of the old town and still keeps 26 stone buildings right on the slopes of Mt. They occupy an area of1,800 square meters which is complete with a reserve area of more than 2,000 meters which could extend the excavation in the future. The team of archaeologists from Terra Retching, project, believes that this set castreño I can be considered a kind of protociudad or oppidum, the name given to large settlements that played a central role in the coordination of their territory. Abandoned for years, the site Vigo was very run down and it took eight months of work to get it ready and show it to the public.
siguiente
anterior
219 Contenidos. Página 1 de 44